Tuesday 08th May 2007 02:41:45 PM


Siumai is moving![ 4 messages]
---
General
Hello, I will not be maintaining Siumai's blog here from now on. It fact, Siumai is becoming Charsiu, both are made of porks... :-)
Check out my new blog at:
Tuesday 24th April 2007 08:55:27 AM


Too kiasu?[ 0 messages]
---
General
This one makes my day... hahaha...
Monday 23rd April 2007 11:07:04 AM


Backache..[ 0 messages]
---
General
I wonder what is happening to my back lately. It's be aching for a few days. Not the very painful type, but it's like I have been thru a very heavy sport session. Paupau said this is due to my karting session lately...hmm ... come to think about it, these karts has no suspension (springs/dampers), my bum was soaking up all the impact when I went over the kerbs...hahaha... Or may be I have done too much driving lately. arghhh... I need to work on my core muscle, may be a fitness ball will do the trick....
Thursday 19th April 2007 10:00:41 AM


Local talent[ 0 messages]
---
General
Stumbled upon these 2 funny MVs... Sibeh horseh...
Wednesday 18th April 2007 02:23:37 PM


A hot comeback![ 0 messages]
---
General
After 2 months of 'break', I think I should come back and do some blogging. The last blog I did was during Chinese New Year, time flies...
The weather has been super hot lately. I can feel my body burning, my throat feels like it would explode anytime... I really couldn't get use to this hot weather. I'm not sure if it is because my trip to Guangzhou lately. The weather there was superb, dipping to around 10'C, the 'hottest' day was also less than 20'C. Back here 2 weeks ago, and the temperature was over 30'C all the time...
To top it all, my office's aircond aren't working properly, blowing hot air only... arghh... I need a cold shower!!!... hmm... May be I need to migrate to somewhere cooler....
Tuesday 13th February 2007 02:52:40 PM


恭喜发财! 猪年行大运![ 0 messages]
---
General
Wishing all of you a very happy and prosperous PIG year! 恭喜发财!
Monday 22nd January 2007 01:06:32 PM


Lunch time dilemma[ 5 messages]
---
General
It is lunch time again. And I am here still sitting in front of my PC. I am hungry like hell now, but I still do not know what I should have for lunch.
I work in a sick place. A place full of only food I do not like to eat. Spicy and hot food, arghh.... these people just do not know how to cook... give me charsiu, give me siuyuk pls....
I have been working here for more than 18 months now. People that have not met me for some time always have the same question - "siumai, why are you losing weight?" Not that I want to lose weight, but I just cannot help it... How could you not lose weight if you skip breakfast and have lousy lunch?
I hate this place...
Monday 15th January 2007 11:13:31 AM


Word Riddle[ 0 messages]
---
General
Monday 15th January 2007 11:03:17 AM


Probability[ 0 messages]
---
General
Got this advertisement from a friend. Nice one!
Thursday 11th January 2007 04:33:17 PM


A trip to Cameron Highlands[ 0 messages]
---
General
Paupau and I went for a trip to Cameron Highlands recently. It was just a trip to relax, not many actions, since the whole month of December 2006 was quite hectic for us. I am sure you know what I mean here.
Well, since I have gigabytes of photos pending upload, I have decided that those old ones shall only stay in the harddisk. Because I know that I will never dig them out and upload them here. Since this trip is still quite "up to date", I shall upload the photos before the files start growing roots in the harddisk. Check them out [here].
P/S: This photo was taken while I was still half asleep. The morning light pierced thru our balcony early in the morning. This first thing I did was grabbing the camera and started shooting. I cannot quite recall whether I put on my clothes or not... ;p
Thursday 11th January 2007 11:26:10 AM


Airasia offers 1,000,000 free seats![ 2 messages]
---
General
Airasia is offering 1,000,000 free seats again. Go grab your tickets now. Booking period is from 10-Jan till 19-Jan.
I have already got mine. I'm conquering the highest mountain in Sounth East Asia... ;p Hopefully I am fit enough to reach the peak!! hahaha....
Wednesday 03rd January 2007 01:42:36 PM


Happy New Year 2007![ 0 messages]
---
General
Wishing all of you a very happy new year. Hope this new year will bring good fortunes and good health to all of us... ;p
December 2006 has been a very hectic month for me, as you can see from the number of posts I made during this month. Hopefully I will have more time from now on to post some interesting topics. I also have Gigabytes of photos in my harddrive, waiting to be processed and uploaded.
I wish I could utilised more of my photoblog here. I have paid anyway... :-)
Sunday 24th December 2006 04:55:27 PM


Merry Christmas![ 0 messages]
---
General
It's Christmas... A wet Christmas for some of us here...

I have some time to blog finally. Will be having a small Appreciation cum Christmas party at my place with some close friends tonite. This is to thank them for their BIG help during my BIG day recently. hahaha....

Do find out the Christmas tree that we have put up here. Nice isn't it?

Merry Christmas to all my dear friends!

Monday 13th November 2006 03:08:31 PM


A skirt too short?[ 0 messages]
---
General
After the outraging remark made by the Penang Municipal Council president regarding the 'peeping tom' incident during the council meeting, I was wondering what kind of cavemen mentality these people have. The council president conveniently blame the sexual harassment victim for wearing too sexy a dress, prompting the CCTV operator to point the camera at the victims thighs. What an unprofessional remark coming out from the mouth of a municipal council president. Can you imagine a state run by people with sexist mentality? I leave it to you...
Thursday 09th November 2006 04:56:40 PM


Someone please cool me down!![ 2 messages]
---
General
Have you ever tried to teach someone sincerely with all the knowledge you have, but in turn the receiving party never appreciated it and accused you of taking the whole process lightly? One of the participants in my class gave me an all low in the post-training evaluation, my heart just sank when I saw it...

Another bad day... arghhh....
Thursday 09th November 2006 02:03:36 PM


How to make Malaysia a reading society?[ 7 messages]
---
General
I went to buy The Star newspaper earlier during lunch time. Amazingly, all of them are sold out. I looked around all the shops but I couldn't get any. Normally there are still plenty of 'stocks' available at this time of the day. I told myself what the heck? Then suddenly I realized that there is a murder case, the hottest topic in our country at the moment. A Mongolian model was shot dead and her body blown up by explosive!! The main suspect is one of our country's highly regarded political analysts.
If one wonders how to make Malaysia a reading society, they should know what our readers want now. We do not need libraries, we just need murder cases... So much of our reading society...

Tuesday 07th November 2006 11:49:39 AM


Is the bull around the corner?[ 0 messages]
---
General
The KLCI opens slightly higher today. Then at around 10am, it breaks thru the 1000 mark!! At the time of reporting, the index has risen almost 1% to 1003. Can the KLCI stay above the 1000 points psychological level? Can we see the bull in the near future? Let's hope so!!
Monday 16th October 2006 11:01:45 AM


Whisker[ 1 messages]
---
General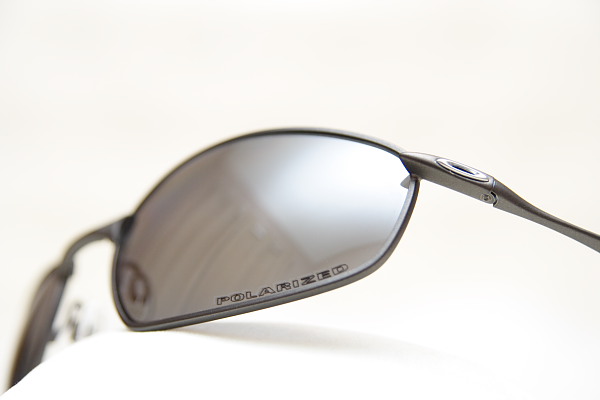 Bought this cool pair of sunglasses for paupau as a birthday present the other day. This is Oakley's Whisker with polarized lens. If you are out there shopping for a pair of practical sunglasses, I strongly recommend you get one with polarized lens.
After wearing one with polarized lens for more than 2 years, I can say it really worth the extra money. It can really reduce glare, especially those bounce off the windshield of a car when you are driving. Depending on the sun's position, it can also reduce glare bounce off the road surface, especially after rain. If you go to beaches often, polarized lens is a must. Because glare from the surface of water will be reduced tremendously. to find out more, try to google, there are lots of information out there.
Beware though when you are wearing one and go to pump petrol, you may not see what's on the LCD display. In order to see, you must rotate your head a bit... :-) Trust me, you would see a different world behind a pair of polarized sunglasses. If you are into photography, a polarized filter will do wonders to your photographs, too... ;p
Friday 13th October 2006 10:46:31 AM


KLCI breached above 980![ 0 messages]
---
General
This is a good sign... haha... KLCI go up up up!!! Then I can buy more more more toys for myself... ;p
Tuesday 26th September 2006 01:26:59 PM


Guys, beware when a pretty girl approach you![ 3 messages]
---
General
Heard this on MY FM this morning.
A decent looking girl (let's call her G) approached a guy (let's call him B) and said she wanna befriend him. Naturally, B didn't turn down G (frankly, most of the guys wouldn't). There they chat for awhile and exchanged phone numbers.
The following day, G gave a call to B and asked him out for a drink. B happily agreed (frankly, not all guys would). When they were having drinks, G said her handphone was having problem and asked B if she could ask her friend to call B's phone. B agreed. Then B's phone rang and he handed it to G to answer. G then claimed that the line was bad and she couldn't hear clearly, so she told B to look after her handbag and she went away slowly while talking to the phone…and eventually vanished!
When B realized what happened, he looked into G's handbag, there were only rubbish inside. Poor guy, have himself to blame! ;p
Monday 25th September 2006 02:28:09 PM


Donate your unused credit[ 5 messages]
---
General
I have been using the Maxis Plan 75 for some time. As the name suggests, I have to pay RM75 every month, regardless of whether I finish using the credit or not. Of late, my monthly usage is only around RM30. Since any unutilized credit will be forfeited, I have to find a way to finish up the my credit instead of letting Maxis make so much profit out of me.
So I asked myself, why not donate the extra credit? I emailed to a few charity organizations, some replied and some did not (so much for charity?). From the replies I received, only the National Cancer Council (MAKNA) accepts donation via SMS 'officially' (I have an email reply from MAKNA dated 05-Sep-06). There is another organization who accepts it, but they did not reply my email, so it is deemed 'not official', so I will not put its name here.
Here is how you can donate to MAKNA; For each SMS sent, you donate RM5.

If you are wondering whether Maxis will charge you the RM5/SMS on top of the usual RM75/month, the answer is No. These SMS are billed under 'External Content Provider' and is cover by your RM75 credit. Verified by my own monthly statements.
Please lift your fingers and donate now, it will not cost you anything (except the normal operator charges for RM0.15/SMS). Thank you!
P/S: I will add in more organizations once I have found them out.
[Updated 26/09/2006]
If you would like to help me spread the word and save a few lifes, here is the direct link to this message: http://www.fotop.net/siumai/pjournal?m=9&y=2006#14393
Wednesday 20th September 2006 11:30:46 AM


Coup D'etat in Thailand [ 0 messages]
---
General
It happened again yesterday, to a country that has seen 23 coups or attempted coups in the pass 74 years.
Wednesday 30th August 2006 09:30:07 PM


Happy Merdeka Day![ 0 messages]
---
General
Since the 49th Merdeka Day is around the corner, I would like to show my patriotism by displaying a Bunga Raya here (emm...I know flying a flag will also do, if you get what i mean...) and wish all of you out there Happy Merdeka Day!
This huge Bunga Raya photo is taken at one of the nurseries in Sg Buloh. See more flowers [here].
Tuesday 08th August 2006 10:54:35 PM


Happy Birthday to ME![ 0 messages]
---
General
It was my birthday last week but I haven't been able to write about it. Thanks to a few close friends of mine, of course including paupau, I had a wonderful and memorable birthday.
To start the night, we went for dinner at Wong Poh aka Wong Loi Restaurant. Ordered the delicious but sinful "pork hand" as one of the guys called it. :-) Apart from that, we also ordered the "salted egg crab", "dan si ha gou (whipped egg shrimp paste? ;p)" and etc...
After the dinner, we went for a drink in a pub at The Curve. Not really happening here... it was only around 9pm+, still 'early' perhaps?? Then paupau and another lady said they wanna go shopping at the mall...typical ladies i thought... hahahaha... apparently they went to buy me a birthday cake!!! I really didn't expect it! hehe...
After that, we all went back to my place to have the customary 'blow-cake-then-eat-cake' event. Thank you guys for making this happened!! I really appreciate it... ;p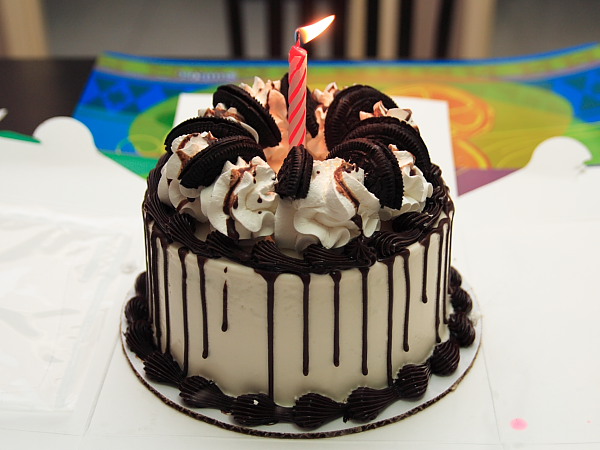 "My Mint-Choc Ice Cream Cake from Baskin Robbin"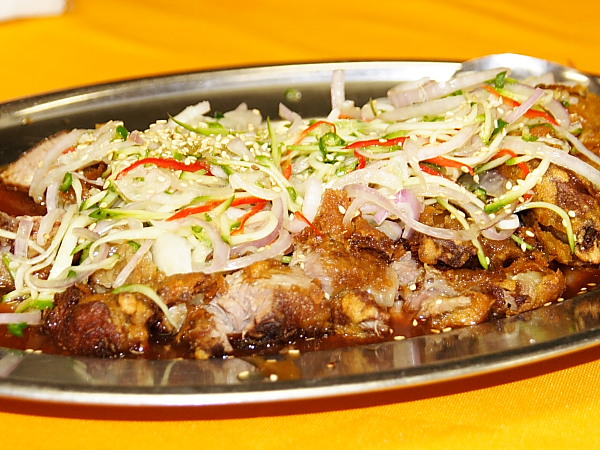 "Delicious Pork Knuckle"
Wednesday 02nd August 2006 11:05:30 AM


What's with UPM?[ 1 messages]
---
General
Got an email from a close friend regarding violence at UPM. I was quite shocked to see what actually is happening in our public universities. I'm sure this case in UPM is not an isolated one but only a tip of an iceberg. See the video here and judge for yourself. You may also visit the blogs here and here to find out more.
Added another blog here. You may also want to follow-up the news at merdekareview.com.
Shame...
Tuesday 01st August 2006 12:41:28 PM


Paupau's shoes collection![ 0 messages]
---
General
Paupau ask me to take some photos of her new shoes. I'm more than happy to do so, since I have not touch my 'baby' for some time. ;p
Bear in mind these are not paupau's full collection of shoes, these are all new shoes, may be 10% of all her shoes 'collection'... hahaha...
Uploaded some photos [here], critiques are welcome... hahaha... enjoy!!
Sunday 23rd July 2006 09:57:12 PM


Toy for the big boy![ 0 messages]
---
General
I was shopping with paupau last Saturday, intended to get a present for suzette's 2-month old daughter. (A full-moon present supposedly ;p)
Boys will be boys... I ended up buying myself a present as well; a remote control aeroplane! Since this one only costs RM109, it's not difficult to get the "buy-it-if-you-like" sign from paupau...hehehe...
Did a "thorough" test flight earlier in the evening today, it's really impressive I must say! It can really fly!
Tuesday 27th June 2006 12:09:11 AM


New member...Welcome![ 0 messages]
---
General
Besides muke, we got another new member today. See maukauchai's photo here: http://www.fotop.net/maikauchai
WELCOME!!!
Tuesday 27th June 2006 12:05:06 AM


3GB storage space!![ 0 messages]
---
General
After getting a new lens, it's time to get more serious about photography... hehehe...
So I decided to become a paid member of fotop.net. I've chosen the 3GB package which costs HK$99/year. With this package, I get more space and can upload bigger photo compared to the free package.
Subscription is very simple, I use my trusty HSBC credit card to pay online, and the account is activated within 10 minutes...
Friday 23rd June 2006 01:46:58 AM


First blog from my mobile...sequel[ 0 messages]
---
General
Just found out that I can't edit or delete a message using my phone, due to the browser. I can only use it to post new message.
My friends will be going to the JGTC at Sepang later today, to try out thier shooting, using their camera of course... :-) Too bad for some unavoidable reason, I couldn't join them. Wish they'll have a fun and fruitful session.
Friday 23rd June 2006 01:21:11 AM


First blog from my mobile...[ 0 messages]
---
General
It's raining outside and I couldn't sleep. So I try to create a message using my phone.
Sunday 11th June 2006 10:50:38 PM


What's with Astro?[ 0 messages]
---
General
I'm one of those guys who does not install Astro at home. During this World Cup, I realized that most of, or rather all the matches played by the 'big teams' are not shown over free TV. Those matches that I missed and going to miss are 'England vs Paraguay', 'S. Montenegro vs Holland', 'Italy vs Ghana'...
This is so not fair... Do we need to compromise on what matches to watch just because we don't pay??
Thursday 08th June 2006 01:18:41 PM


Bad Day[ 0 messages]
---
General
Today is a day that I would like to keep behind my back. Got a phone call early in the morning from the boss of the main contractor I'm working with, asking me the progress of our work. My sub-con is giving me problem again, my boss is asking me to do something I don't like... arghhh... don't really like to mention it any further...
I always like to listen to this song when I had a not so "perfect" day. I always like songs that can sing my heart. Bad Day by Daniel Powter, it goes like this:
"...You had a bad day
You're taking one down
You sing a sad song just to turn it around
You say you don't know
You tell me don't lie
You work at a smile and you go for a ride
You had a bad day
The camera don't lie
You're coming back down and you really don't mind
You had a bad day..."

Wednesday 07th June 2006 04:16:55 PM


Start of a new journey...[ 0 messages]
---
General
This is my first photo blog...
After many sleepless nights, I finally gotten myself a new camera. This is actually my first purchase of a camera in the digital camera era, can you imagine?
My first outing with the camera?? It has to be every men's dream show... The KLIMS 2006 :-) I'll post some photos later...or you may visit here: http://www.flickr.com/photos/siu_mai
0.199903011322